Our Orange Park veterinary dermatologist provides advanced diagnostics and treatment for a range of challenging ear conditions in dogs and cats.
Diagnosing Ear Conditions in Pets
Disorders of the ear are common in both dogs and cats. Diagnostic otoscopy is one of the most important tools for getting to the bottom of ear diseases.
At Animal Friends Dermatology our pet dermatologist uses Video Otoscope technology to look deep into your pet's ear from the outside and identify the underlying problem.
Using diagnostic otoscopy, also allows us to document the ear examination which can help you and your primary care veterinarian to better understand your dog or cat's ear condition.
Video Otoscope technology helps our team when performing biopsies or doing ear flushes and treatments deep inside your pet's ears.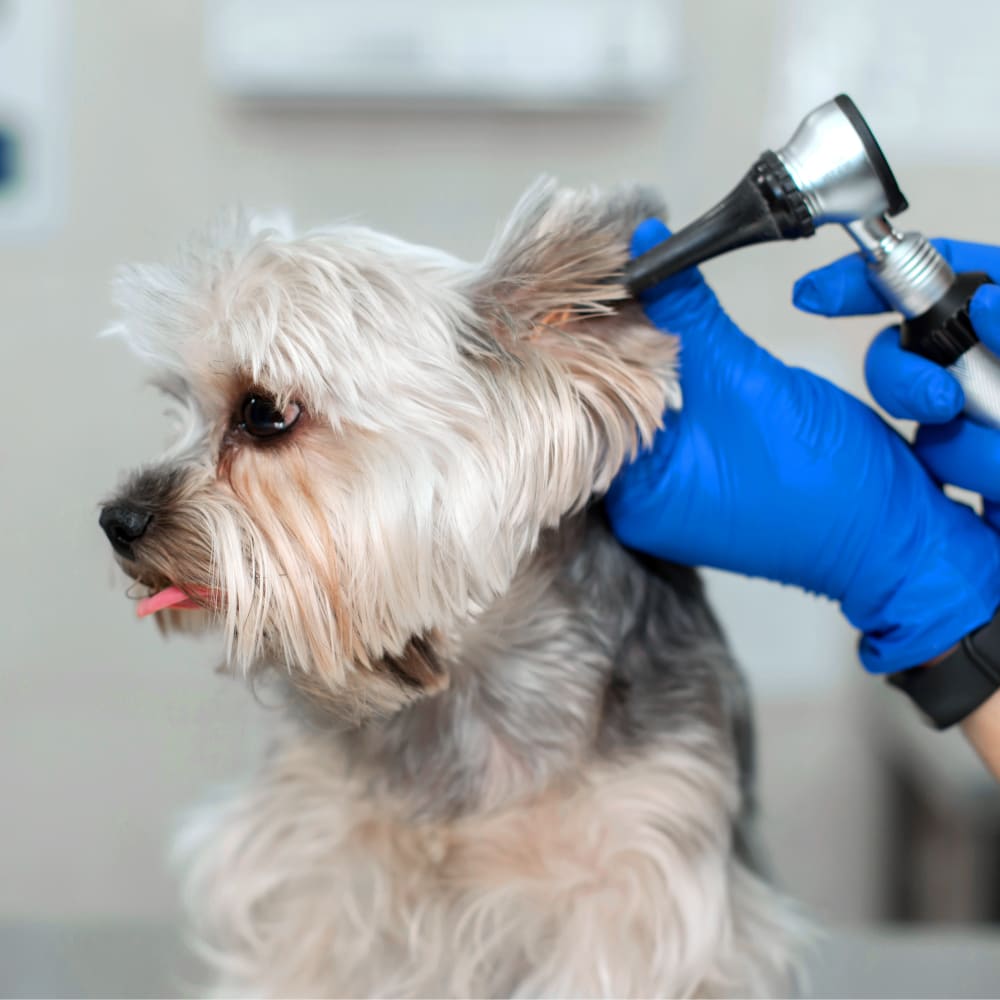 Veterinary Deep Ear Cleaning
Cleaning of the ear canal is one of the most important aspects of treatment of ear infections. In chronic ear infections, it is often necessary to clean the deeper aspects of the ear canal and the middle ear cavity (or bulla) that cannot be reached with traditional cleaning at home. Our veterinary dermatologist in Orange Park uses a handheld video otoscope to illuminate the ear canal and facilitate deep cleaning. Ear disease can be painful, so this process is typically performed under anesthesia. 
Common Ear Conditions in Pets
The tubular portion of the outer ear that carries sound to the eardrum is called the ear canal.
The most common disorder of the ear canal that our dermatology specialist sees in dogs and cats is called otitis externa. This condition occurs when the layer of cells that line the external ear canal becomes inflamed.
One or both ears can be affected, and signs can be sudden or long-term. 
Signs & Symptoms
Signs include head shaking, odor, redness of the skin, swelling, scratching, increased discharge, and scaly skin. The ear canal may be painful or itchy depending on the cause or duration of the condition.
Causes of Ear Disease in Cats & Dogs
There are a number of different factors that can lead to painful ear inflammation in pets.
Parasites, foreign objects, and allergies can be a direct cause of ear inflammation, while certain bacteria, yeasts, or a middle ear infection can lead to the development of this condition.
The shape or form of your pet's ear structure could also predispose your furry friend to developing otitis externa.
When it comes to providing effective treatment for this common ear condition it is essential to identify the underlying cause of the inflammation. 
An accurate diagnosis allows your pet's dermatologist to determine whether your dog or cat's condition can be cured, or whether ongoing treatments will be necessary over the course of your pet's lifetime.
Myringotomy
Myringotomy is a special test that is typically performed if your dog or cat is experiencing a middle ear infection.
This procedure involves making an incision into the tympanum (eardrum) to obtain a sterile sample of the fluid within the middle ear for culture and analysis, and to flush the bulla (middle ear cavity).